Supporting Each Other
Dear Friends of AHEM,
I am a proud homeschool mama. I have two daughters, ages eight and twelve. When I became a mom, I never dreamed (not for even one single moment) that I would homeschool my children. I was a teacher, both of my parents were teachers, my sister is a teacher. Homeschool? Um, no! But that all changed when my child was (shall we say) not thriving in school. After even the gentlest school proved too much for my child, I held up the white flag and finally tried homeschooling. And, the most wonderful thing happened during that homeschool experiment. My kids calmed down (far fewer tantrums!), they started to play with one another (as opposed to fighting), and my school-aged daughter started to draw, dance and sing again (she'd stopped doing these things she loved when she was in school). Our home became a much happier place and I have never looked back.
AHEM played a big role in my decision to homeschool. Before taking the plunge, I went to the Robbins Library (in Arlington) to hear Sophia Sayigh talk about Getting Started Homeschooling. Sophia made homeschooling sound not only possible, but awesome! Was she serious? Homeschooling was something to move towards, not just a last resort for people who'd been exhausted and defeated by the schools?! Game. Changer.
I would get additional support from AHEM over the course of my first year of homeschooling. A kind and knowledgeable AHEM county contact talked me down when I was freaking out after my school district returned my education plan (requesting more information). Later that first year, I attended an AHEM conference where I heard both Sophia and Milva, the co-founders of AHEM, speak about their homeschool journeys. Their stories inspired me to dig deeper and give more of myself in order to build a homeschool community for my children and (perhaps even more importantly), for myself. Part of this community building involved volunteering for, and later joining the board of AHEM.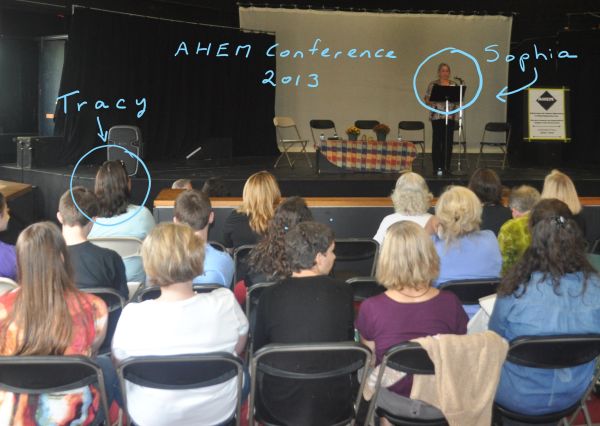 When my child was in school, yearly donations were not optional. If you didn't donate, you had to meet with the head of the school. Creepy, yes. But also, very effective. When we transitioned from school to homeschooling, I never questioned where I'd make my yearly educational donation. AHEM had supported me so well during that first year of homeschooling, I wanted to say thank you with my money. Instead of supporting the school that educated (and traumatized) my child, I donated to AHEM, the organization that supported and empowered me to educate my children at home.
I asked my eight-year-old daughter why people should donate to AHEM and she had the best answer: "to help parents believe in their kids to homeschool and to help moms and dads think harder about what their kids need." So, there you have it, from the mouth of a life-long homeschooler. Please consider AHEM in your holiday giving this year so we can continue our mission of supporting independent homeschooling in Massachusetts.
Happy Holidays!
Tracy Barsamian, on behalf of the AHEM Board